Autumn "summer school" of Latvian language and regional studies "Challenges of Etnotourism and Ecotourism in Latgale and Selonia" has finished successfully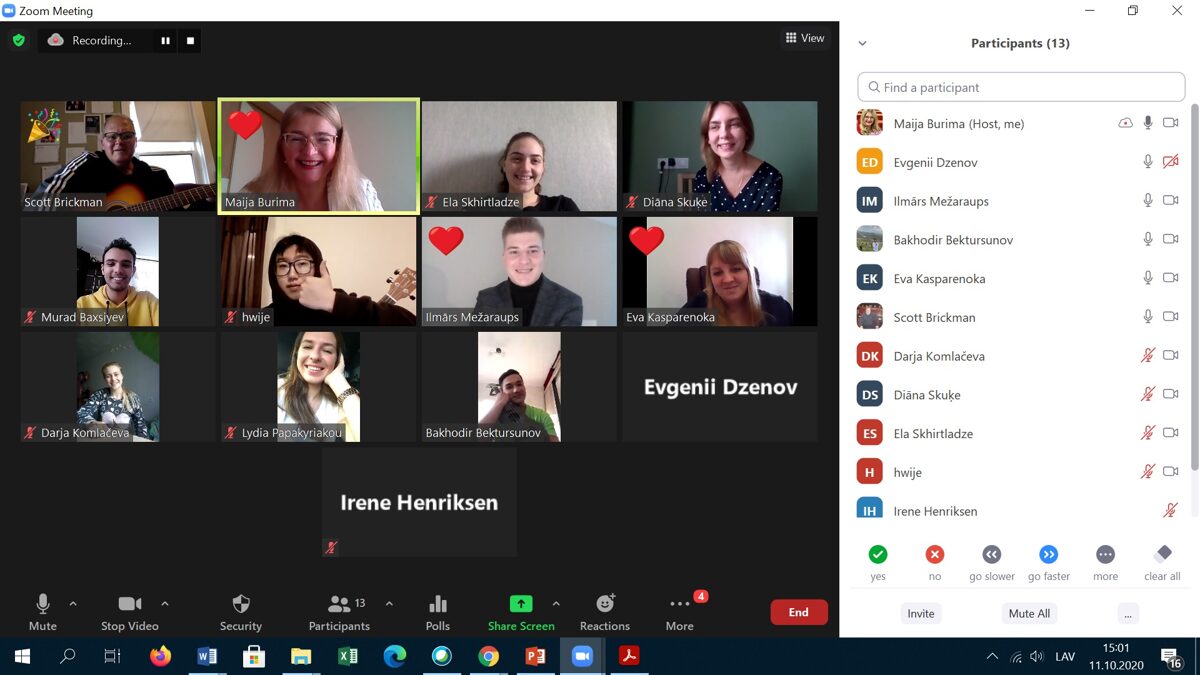 From 2 to 11 October Daugavpils University organised autumn "summer school" of Latvian language and regional studies "Challenges of Etnotourism and Ecotourism in Latgale and Selonia". This was the fourth year of such school.
---
It was originally planned that the summer school would take place in the middle of summer in the city of Daugavpils, but for safety reasons, it was decided to postpone it to autumn and organise all classes and activities online. Latvian language learning and sociocultural activities took place on Zoom platform.
The classes were attended by 10 foreign students and academic personnel from Azerbaijan, South Korea, Greece, Georgia, Peru, Spain, Turkey, Ukraine, and Uzbekistan who received a scholarship from the State Education Development Agency of the Republic of Latvia for participation in the summer school.
Classes were organised in 2 modules: Latvian language learning and Tourism. In order to adapt the content of school modules for distance learning, it was necessary to develop an innovative methodological approach and to learn a variety of methods. Participants developed speaking, reading, listening and writing skills at the basic level on topics related to tourism, travel and education. Modern electronic resources and materials were used to learn Latvian. At the end of the course, the participants carried out a test of their language skill accordance to level A1.
This year, the focus of sociocultural activities was on the ecotourism and ethnotourism in Latgale and Selonia. The participants travelled virtualy to the brightest destinations of Latgale and Selonia tourism, noting the region's ethnographic heritage, the ecotourism spectrum and cultural and historical diversity. Practical tasks, discussions and support vocabulary in Latvian were integrated into the video excursions filmed specially for the summer school.
In Selonia, the unique nature diversity in the Dviete floodplain, the ethnourism and ecotourism symbiosis at the Tadenava Rainis Museum and Pauls Sukatnieks' personality at his home and garden in Dviete parish were discovered. In Latgale, the participants met Daugavpils Fortress and its various layers of cultural history, while Latgale's ethnographic heritage was explored during a visit to Līvāni Arts and Crafts Centre, Latgale's pottery secrets were discovered during a visit of a pottery school at Aivars Ušpelis in Malta parish, but everyday rural life and the traditions of cheese making were learned in farm "Yuri" in Rušona parish.
In discussions and practical tasks participants shared their ideas and suggestions for the development of different tourism facilities, compared Latvia's tourism environment with their own country's examples, as well as strengthening new vocabulary in Latvian.
Summer school graduation took place virtually on October 11, 2020. The organisers and participants of the school assessed their achievements, the specifics of distance learning and acknowledged that, even by learning and communicating in the digital environment, it is possible to establish not only formal relationship, but also emotional links. The song "Autumn" by "Brainstorm" was sung and accompanied by three guitars by the summer school participants from several continents and different time zones.
A survey was conducted to get feedback that would help improve school work in coming years. The school participants appreciated the methods and solutions used by the organisers in distance learning, both in Latvian language training and in the sociocultural activities. In addition, summer school participants provided their methodological and technological advice and ideas for the online summer school. Most of them also acknowledged that they would very much like to meet in person with the newly formed summer school group.
Here is some of their feedback:
Murad Bakhshiyev (Azerbaijan) wrote: I would like to thank the entire summer school team. You have done the best possible at this time of restrictions. I hadn't thought the lessons would be so effective and efficient for all of us.
Daria Bulgakova (Ukraine): Thank you very much. The team's work was great, you were well prepared. Each day was a wonderful investment in my knowledge stock about Latvia. I want to see you all in person.
Lydia Papakyriakou (Greece): Everything was great! I learned a lot of new things. Thanks for the opportunity! I hope we meet sometime.
At the end of the summer school, participants were issued electronic certificates for the participating in Latvian language and cultural programme of 60 hours or 6 ECTS (the European Credit Transfer and Accumulation System), which approves their Latvian proficiency to the level A1.
The school was organised with an aim of providing an opportunity to acquire Latvian language and Latvian regional studies to project target group, in order to help the foreigners to get familiar with Latvia and Latvian language, develop awareness of Latvian cultural space, stimulate students to use Latvian language in public communication and encourage them to consider further cooperation opportunities with Latvia.
A team worked with summer school members in preparation for school and at school time: Dr. philol., prof. Maija Burima (Head of Summer School), Eva Bogdāne, Diāna Skuķe, Ilmārs Mežaraups, Darja Komlačeva.
The school is organized by Daugavpils University Faculty of Humanities Centre for Latvian Studies.

You can follow our news at school's website and on Facebook.
This project has been funded with support from State Education Development Agency of the Republic of Latvia.
No comments
Leave a reply